New Tortuguero National Park entrance fee $15 (starting November 1, 2014)
Jungle Package $115 pp with transportation:

(without transportation $80)
Transfer: 6am San Jose-Tortuguero then 2pmTortuguero-San Jose

(

Optional transfer

: One way 10 am Tortuguero-Moin

or

10 am Moin-Tortuguero)

One night lodging (double occupation) by the beach. Both lodgings

include hot water, and Wi-Fi.

Morning Canals Tour

Jungle Hike

Night walk

National Park Entrance

not

included



Single occupation pays $10 extra
Additional night lodging $15 pp (double occupation)
Sea Turtle Promo Package (April-Oct ) $105

Transfer: 6am San Jose-Tortuguero then 2pmTortuguero-San Jose

(

Optional transfer

: One way 10 am Tortuguero-Moin

or

10 am Moin-Tortuguero)

1 night lodging in cabinas by the beach, private bathroom, WiFi

Jungle Hike (2 hrs)

Turtle Night Tour (2 hrs)

Canoe Tour 6am (3 hrs)
Single occupation pays $10 extra

Additional night lodging $15 pp (double occupation)
**without transportation: Turtle Package $75 pp (Abril-Mayo, Julio-Octubre)
Turtle Night Tour $25 (March 15th-October 31st)
Witness one of the most incredible creatures, sea turtles, as they climb out of the ocean and lay their eggs on the beach.
On a typical sea turtle tour, visitors are led to a spot on the beach where a sea turtle is digging a hole (a foot or two deep) with her hind flippers after pulling herself out of the pounding surf and up the sand. The turtle then starts filling the nest with soft-shelled eggs (the size of table tennis balls). After laying her eggs, she refills the nest with sand and heads back into the ocean. The whole process takes 30 to 60 minutes.
The Green sea turtle, one of the park's most famous visitors, has existed for over 200 million years and can weigh over 200 pounds. These endangered species nests in Tortuguero from July to October. Although less common, the Leatherback, Hawksbill and Loggerhead turtles also arrive to make their nests and lay eggs between March and October (Leatherbacks: March to June).
Take a memorable experience with this turtle night tour!
Location: Public beach or Tortuguero National Park (entrance fee not included)

Tour Duration: max 2 hrs

Canals Tour $25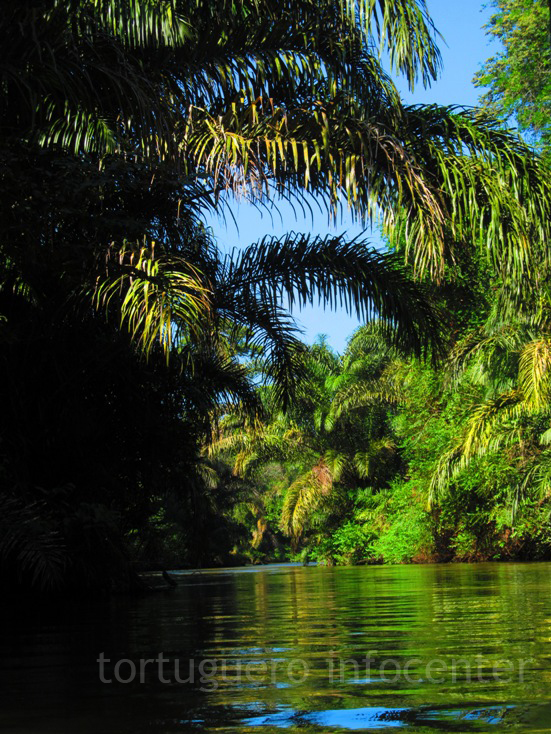 Canoe touring is a peaceful and environmentally sustainable way to enjoy Tortuguero's navigable network of rivers and narrow channels that crosses this National Park which allows a great diversity of fauna and flora to be observed close at hand.

You are likely to see monkeys, caimans, basilisk lizards, and a large variety of bird species, especially migratory. If you are lucky you might spot green scarlet macaws. You will also learn and enjoy the beautiful flora such as the Raphia Palm with the largest leaves of any plant within the neotropics.
Tour Duration: 3 hrs *National Park Entrance not included.
Jungle Hike $20

Trails cut through the dense humid tropical rainforest, allowing you to observe a startling variety of wildlife species.
Once under the forest's canopy, you might see toucans, brightly colored macaws, and playful howler monkeys above. We will point out and explain the various species of plant and animal life - truly bringing the forest to life.
Duration: 2 hrs. National Park Entrance not included
Tortuguero Village Tour $17

Learn about the history and culture of the local community as well as its efforts to get the basic needs such as running water, medical care, garbage collection and recycling. We will visit the local school and the natural history museum of the Sea Turtle Conservancy, here you will discover more information about the research and conservation work being done. Also, we will walk through the paths among the colorful Afro-Caribbean homes and you will learn about the uses of some medicinal plants found in Tortuguero.
Night Walk Tour $25
At nightfall, a new world awakes in the rainforest. Large numbers of wildlife are more active at night showing a different world from frogs to the mysterious nocturnal bats are part of Tortuguero landscape.

For those who wish to experience the nocturnal biodiversity of the tropical forest. This activity will be done after sunset using flashlights to locate wildlife by the reflection of their eyes. We will hike in the deeper rainforest.
Tour duration: 2 hrs
Adventure 1 day Tour $85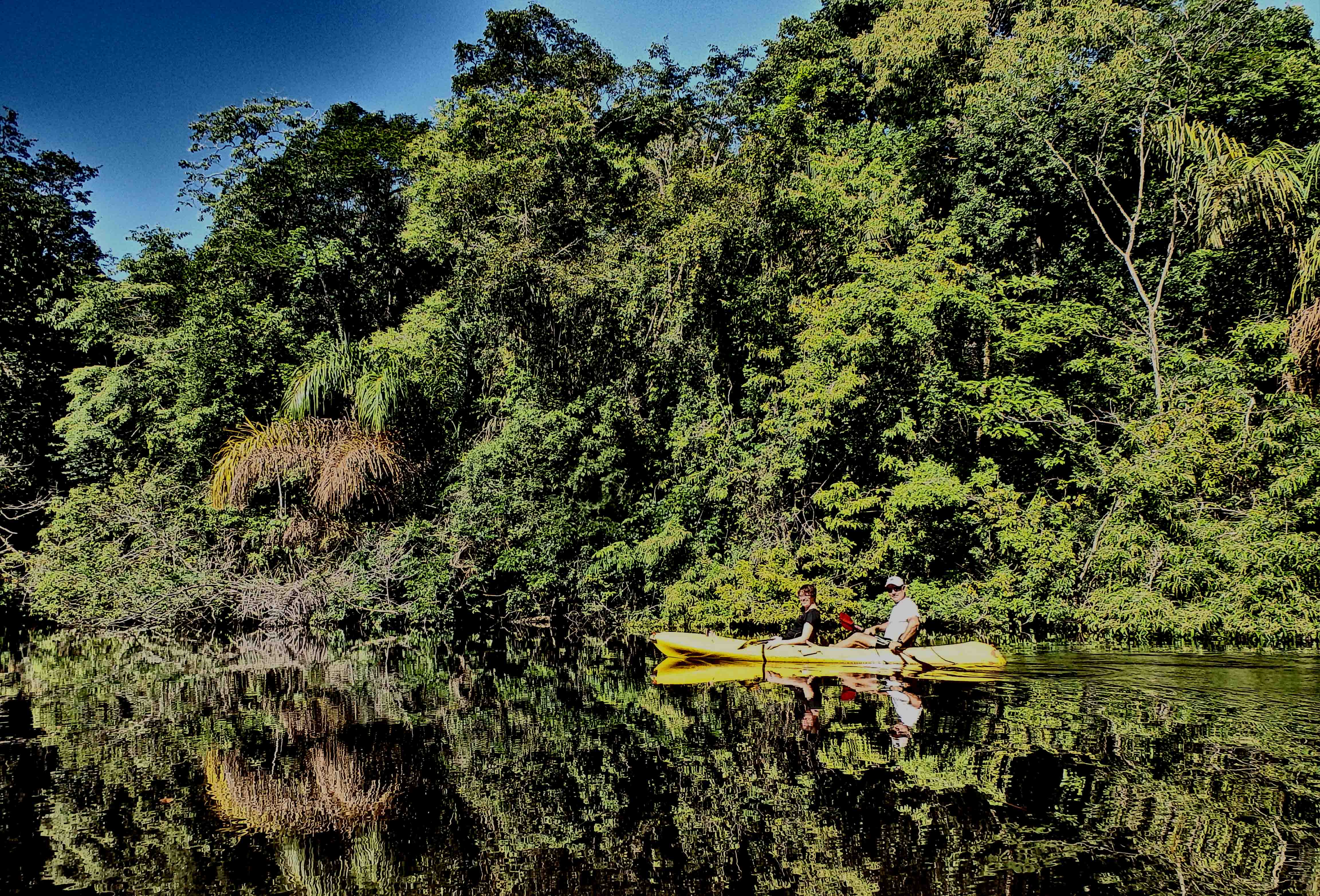 Visitors who wish to be immersed in the forest but seek a more thrilling experience would be wise to choose all day adventure tour.

A six-hour day tour that includes boat ride, jungle hike, lunch, and kayaking (optional: use of hotel's pool). You will learn about the incredible diversity of flora, fauna, and many of the unique relationships many wet tropical forest species have with each other. This tour requires a minimum of two people.
Bike adventure Tour $20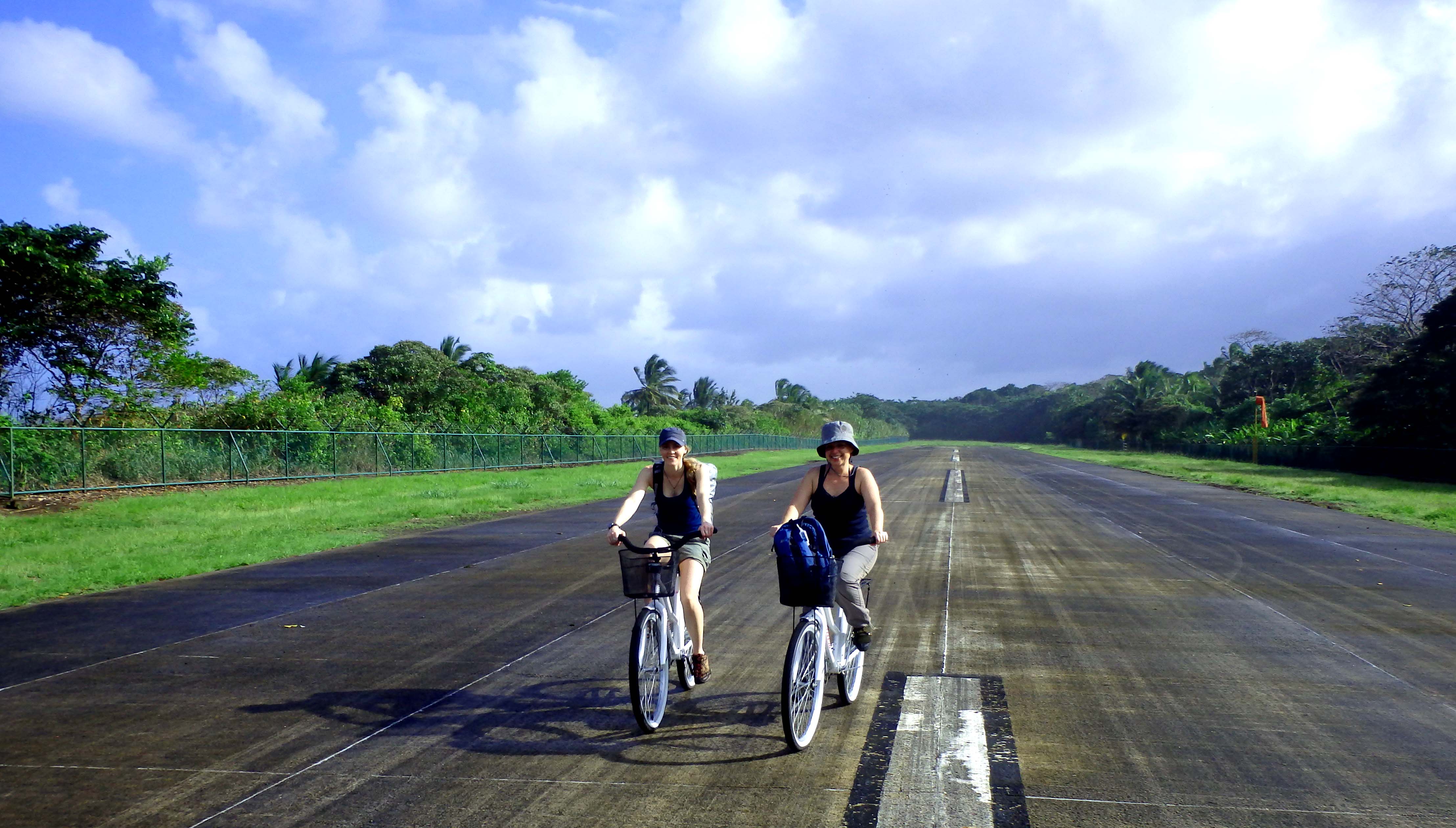 During this thrilling adventure, riders will be able to inmmerse themselves in the diverse flora and fauna of Tortuguero. An hour into the journey, riders will find themselves surrounded by secondary forest.
A 10 min stop will be held at end of the trail to visit the beach close near the mouth of the Tortuguero. After this well-earned break, riders will get back on their bikes to continue their journey throught the rainforest then we will visit the Turtle Conservancy Museum to enjoy a movie about sea turtle conservation before.
Tour duration: maximum 3 hrs
Canopy Tour:

Tortuguero Canopy has eleven platforms, seven zip lines, four hanging bridges, one scaling wall and a Tarzan swing. This tour is ideal for those seeking for some thrilling adventure in Tortuguero, an area that is strongly thriven towards tranquility and ecotourism.
We offer the safest equipments certified by the European Union. The safety manuals for policies and protocols are approved by the costarican Turism Institute (I.C.T.) And all our guides are also certified by the (I.C.T.).
The Canopy allows any member of the family go from tree to tree in a safe and entertaining way, through a cable at the top of the tropical rainforest. This tour lasts about an hour and a half.
Group Tour:

Available for High School/language school, University, and volunteer groups. Learn about the history and culture of the local community, Tortuguero's natural history, and sea turtl conservation program in Tortuguero. Tours: canals, Tortuguero village including museum. For more inforrmation including rates please send us an email to tortuguero_info@racsa.co.cr.